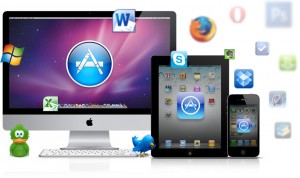 Встановлення програмного забезпечення та всіляких додатків вельми поширена серед сервісних центрів і магазинів спеціалізованих на техніці компанії Аpplе. Просту думку про те, що програмне забезпечення є основним пунктом при виборі комп'ютера, спростувати не можна. Навіть підбір потрібної конфігурації здійснюється з прицілом на певні завдання. Іграшки або робота з графікою, звуком, і так далі. ПО – першочергово, а вже потім можна звертати увагу на якість дисплея, час роботи батарейки, дизайн та інші моменти. Окремим пунктом варто розглядати стандартні програми операційної системи від Apple. Зазвичай після покупки комп'ютера з ОС Windows починається довгий і нелегкий процес установки програм, які будуть заміняти в роботі стандартний софт. Насамперед варто замінити браузер, потім переглядач картинок, далі музичний і відеоплеєр. Кожен переслідує свої цілі, але заміна старого софта в тому чи іншому випадку присутня.
Це все називається налаштуванням пристрою під себе і процес цей займає в середньому день. Пам'ятайте, кілька років тому особливою популярністю користувалися диски – збірники всілякого софтвера на всі випадки життя? Тепер ситуація докорінно змінилася, і все потрібне можна знайти в мережі, але тут друга проблема – віруси. Але далеко не всі з них можуть надати вам вільний вибір з АppStоrе. До того ж не кожен сервіс або магазин має можливість встановити самі останні прошивки на ваші пристрої. Установка пакета програм – від 70 грн!
Installation of software (this service is packet):
Базовий
70 UAH
Basic Configuration
Basic programs
Стандарт
150 UAH
Setting up the device
Setting Programs
Gaming and entertainment
Розширений
250 UAH
Settings and data transfer
Setting all applications for comfortable work
Configuring services and devices
Переваги:
Вам не потрібно сидіти перед монітором комп'ютера чи планшета і шукати відмінні додатки на гаджети, все вже зібрано за вас!

У Вас немає інтернету або він дуже повільний? Не потрібно завантажувати тисячі мегабайтів ігор і програм, все вже викаченной за вас!

Не знадобитися зламувати свої гаджети і тим самим порушувати гарантію на пристрої.

Якщо ваш пристрій не зламати і коштують офіційні програми, батарея буде тримати заряд на багато довше!