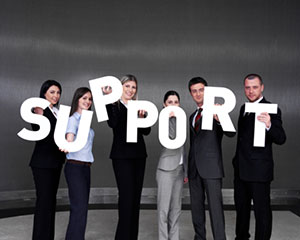 Абонентське обслуговування приватних осіб і невеликих організацій, представників малого і середнього бізнесу – це ефективний спосіб економії коштів. Раціональне використання ресурсів – позаштатний системний адміністратор – це рішення від нашої компанії «KOmP Systems»! Безліч компаній на сьогоднішній день передають управління всіма технічними питаннями IT-фахівцям, що мають багатий досвід роботи в цьому напрямку. Інакше кажучи, вони користуються аутсорсіноговими послугами IT-компаній.
IT аутсорсинг – це передача функцій з управління інформаційною структурою свого підприємства іншому виконавцю на основі договору, за певну плату. За допомогою ІТ аутсорсингу компанії отримують можливість зосередити персонал та фінансові ресурси на профільних напрямках діяльності компанії.
Список послуг , який включає аутсорсинг інформаційних технологій , є досить широким. Компанії інтегратори можуть надавати як окремі IT послуги так і комплексний IT аутсорсинг. Комплексне надання IT послуг – найбільш вигідний варіант, так як в цьому випадку клієнтові потрібно тільки надати доступ до інфраструктури, а всі роботи з обслуговування беруть на себе наші досвідчені фахівці.
Outsourcing IT services has many advantages:
Reducing costs for their services - reducing wage costs, the equipment and software required;
Strict adherence to deadlines providing IT services and implementation of all agreed activities;
Significant time savings by attracting highly skilled professionals providing IT services;
Integrated services are always less costly than doing IT services separately.
Укладаючи договір на надання послуги «Абонентське обслуговування» ви отримуєте надійну роботу всієї комп'ютерної техніки. Наш фахівець, закріплений за вами, проведе ремонт ноутбуків, ремонт комп'ютерів та комп'ютерного обладнання; встановлення та налаштування програм, операційної системи і антивірусного програмного забезпечення; забезпечить безперебійну і повноцінну роботу в Інтернеті і локальних мережах; справить резервне копіювання інформації, а також відновить дані і захистить їх від несанкціонованого доступу. І все, за фіксованою ціною.
Велика перевага полягає ще і в тому , що якість послуг аутсорсингу комп'ютерів завжди значно вище, ніж якість послуг, що надаються власним ІТ- відділом або одним штатним системним адміністратором. Адже компанія, яка надає аутсорсингові послуги, постійно розвивається, шукає нові рішення. Конкуруючи з іншими фірмами, вона постійно підвищує якість надання своїх послуг, вдосконалює методи роботи, покращує обслуговування мереж . Крім того, вона діє на основі договору.
Our company provides IT outsourcing and deals with all matters of work IT infrastructure of the client:

development and implementation of integrated IT solutions;
optimization and upgrading of IT infrastructure of the customer;
ensuring the smooth operation of computers and peripheral equipment;
Troubleshooting in the shortest time;
prediction of faults and carrying out maintenance work to prevent them;
Organization of corporate global and local network;
IT аутсорсинг має безліч переваг в порівнянні з власним ІТ відділом. ІТ аутсорсинг дозволяє керівникам і співробітникам зосередитися на вирішенні профільних завдань і не відволікатися на поточні проблеми, пов'язані з комп'ютерним обслуговуванням. За допомогою ІТ аутсорсингу можна значно економити на непрямих витратах (оренда офісу, амортизація техніки, вдосконалення ПЗ, підвищення кваліфікації співробітників та ін). Це пов'язано з тим, що витрати на аутсорсинг інформаційних систем і аудит чітко виділені, їх легко спрогнозувати.
Customer service from the company «KOmP Systems» is:
Our specialist assigned to you;
A full range of services;
Scheduled departure;
Urgent departure, at any time;
Telephone consultations;
Reliable operation of all computer equipment.
Ми пропонуємо адекватні ціни, на технічне обслуговування комп'ютерів, в яких ви можете переконатися, переглянувши тарифну сітку нижче. Для більш точного розрахунку зателефонуйте за номером гарячої лінії т. (097) 966-18-03 та повідомте кількість комп'ютерів, серверів, оргтехніки і ваші побажання.
Services included in all tariff plans:
Help Lite
250
Feature 1
Feature 2
Feature 3
Help Start
300
Feature 1
Feature 2
Feature 3
Help Pro
800
Feature 1
Feature 2
Feature 3
Displayed prices as of 01.11.2010 do not include VAT
Over 1 server (Windows or Unix) price negotiable
Віддалене обслуговування дозволяє підключитися через Інтернет і негайно відреагувати на проблему, вирішивши її в режимі реального часу; гарантує постійний моніторинг стану серверів і техніки; забезпечує широкий спектр консультацій з питань, пов'язаних з експлуатацією та обслуговуванням устаткування та програмного забезпечення; дає можливість вирішення планових завдань без приїзду інженера на місце експлуатації техніки.
Emergency services (unlimited calls) - Guaranteed departure specialist in place where aircraft arrival and for a maximum of two hours, prompt replacement of failed equipment and components, the solution of any other problems with IT - infrastructure.
Regular maintenance ensures the necessary set of services to support the hardware and software in an efficient and up to date in the development and operation of IT - infrastructure.
Attention!
The advantage is the possibility of correcting the contract depending on the economic situation of the company - the number and range of services can be changed.
Our company provides high quality IT outsourcing services. We will in the shortest time eliminate any problems and offer very reasonable prices!
Get free advice on IT outsourcing to Ukraine Uzhgorod and
by phone: (097) 966-1803 or email us at komp@i-help.us and we will be happy to answer all your questions.