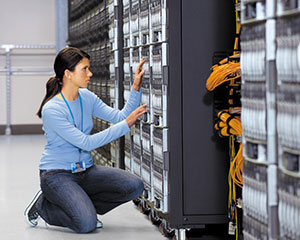 Наша компанія надає послуги системного адміністрування серверів ( it -аутсорсинг ). Всі наші системні адміністратори мають багаторічним досвідом роботи з дуже навантаженими сервісами, які вимагають цілодобової стабільної роботи, з сервісами з високими вимогами до безпеки інформації , володіють широкими знаннями в архітектурі операційних систем і різних додатків. Наша компанія забезпечує надійну , безпечну і ITIL -сумісний підтримку та послуги з управління для будь-якого типу серверної інфраструктури Unix і Microsoft. Ми надаємо повний аутсорсинг рішення для управління повсякденною діяльністю ваших серверів, яка є надійною, безпечною і відповідає передовому досвіді. Наші послуги з управління сервер виключно зосередитися на будь-якому типі серверів Linux і Windows. Наша команда має професійних і сертифікованих системних адміністраторів.
Установка , настроювання й адміністрування серверів – користування даною послугою дає можливість завжди бути абсолютно впевненими в безпеці і оптимальної роботі вашого сервера. Також ми допоможемо вам зменшити витрати на утримання штатного системного адміністратора , адже вартість встановлення сервера та його обслуговування у нас значно нижче , ніж ринкові зарплати кваліфікованих системних адміністраторів. Ми пропонуємо установку і настройку серверів за найнижчими цінами.
Особливості Послуги:
Дистанційний моніторинг мереж на 24×7, для визначення продуктивності та попередження системи безпеки.

Періодична та в режимі реального часу функція сканування на предмет вразливостей мережевих пристроїв. Виявлення потенційних вразливостей компонентів в системі безпеки і виправлення їх.

Відслідковання та повідомлення всі дії користувача мережевої інфраструктури. Визначення підозрілої активністі та вживання необхідних заходів

Проактивна і своєчасна установка критичних оновлень і управління конфігураціями всіх ваших мережевих пристроїв. Допомагає запобігти простою та попередити вторгнень.
Ми пропонуємо наступні послуги в цій галузі
Адміністрація сервера Linux
Адміністрація Windows Server
Сервер адміністрування веб -сервер і поштовий
Управління файлами сервера
Адміністрація сервера доменних імен
Directory Services (ADS and LDAP) administration
Business applications (CRM, VRM and HRM) Server Management
Database Administration Server
Administering users and security groups

Адміністратор системи дистанційного допомагає нашим клієнт миттєво вирішувати будь-які проблеми з сервером в реальному часі. Ми надаємо дистанційне рішення будь-якого виду проблем з серверами.
Наша компанія займається :
адмініструванням серверів FreeBSD / Linux / Windows ;

установкою / перевстановлення / налаштуванням / моніторингом серверів FreeBSD / Linux / Windows ;

установкою / налаштуванням / адмініструванням Інтернет шлюзів , поштових серверів , веб серверів , серверів баз даних;

налаштуванням Firewall , router , динамічним розподілом трафіку , статистикою трафіку по IP адресами ;

safety and optimization of servers

Налаштування DSN і DHCP – серверів

Configuring VPN-Server
Configuring the mail server