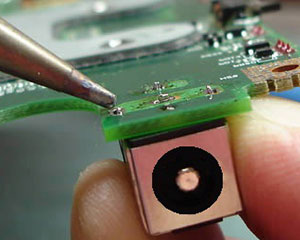 Дуже часто несправністю Вашого ноутбука чи планшета є поломаний роз'єм живленн, чи usb. Проблема з якою ми стикаємося щодня – це заміна різних роз'ємів. Через інтенсивне використання, роз'єми виходять з ладу майже механічно. Зазвичай це відбувається з вини користувача. Заміна будь-якого роз'єму вимагає часткової або повного розбирання пристрою, незалежно ноутбук це чи планшет, саме тому дану процедуру грамотно можуть виконати тільки вузькопрофільні фахівці. Вихід з ладу роз'ємів супроводжується частковою чи повною втратою працездатності даного пристрою. Так само не варто забувати, що використання планшета чи ноутбука з несправним роз'ємом, може привести до більш важких наслідків, а саме, виходу з ладу мікросхем чіпсета чи інтегральних мікросхем. Співробітники нашого сервісного центру мають величезний досвід в цій області і проведуть всі роботи швидко та якісно. Ми працюємо з ноутбуками та планшетами всіх відомих виробників.
Connector laptop or tablet - a link between the power supply and the motherboard.

not charge the B / F;
laptop, tablet not included;
laptop, tablet includes a second and goes;
enclosure deformed, is off the device;
involuntary disconnection laptop or tablet.
Заміна роз'єму живлення ноутбука операція не складна, якщо мати знання в електроніці. Не варто пробувати відремонтувати роз'єм самостійно, підпираючи його різними маеріалами, намагаючись перетягти дротом або скотчем. Сучасні материнські плати складаються з багатьох шарів і застосовується тугоплавкий безсвинцевого припой, для нормальної заміни необхідно дороге паяльне обладнання та ручний інструмент. Інакше можна пошкодити материнську плату і як наслідок відбудеться замикання шарів. У нашому сервісі Вам допоможуть з заміною або ремонтом роз'ємів ноутбуків чи плантетів.