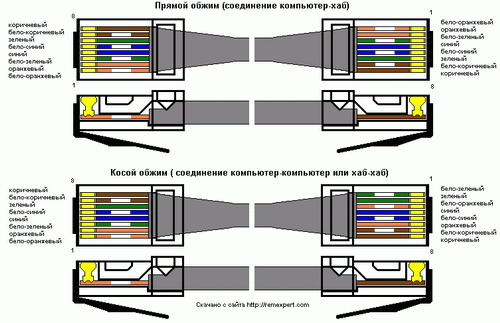 Порядок розведення проводів кручений пари для роз'ємів RJ-45 залежить від призначення сполучної лінії, технології і стандарту передачі даних. Нижче наведені малюнки для локальних обчислювальних мереж Ethernet для стандартів використовують мідний кабель – кручені пари (Twisted Pair). Абрівіатура таких стандартів як правило має вигляд # # # # # – TX (наприклад, 10Base-TX, 100Base-TX) Цифра в назві стандарту говорить про несучій частоті передачі даних. Для кожного стандарту використовуються спеціальні схеми обтиску кабелю, використовуються різні кабелі, застосовуються специфічні обмеження по довжині кабелю і кількості з'єднувачів і комутуючих пристроїв.
Here's a universal way of wringing
Для 10Base-TX і 100Base-TX задіяні лише помаранчеві та зелені проводки (контакти 1 +2 і 3 +6). Синю пару часто використовують для телефонних ліній (контакти 4 +5). Для технологій 1000Base-TX і ряду інших менш популярних задіяні всі 8 контактів, також для Gigabit технологій рекомендую використовувати екрануванню виту пару.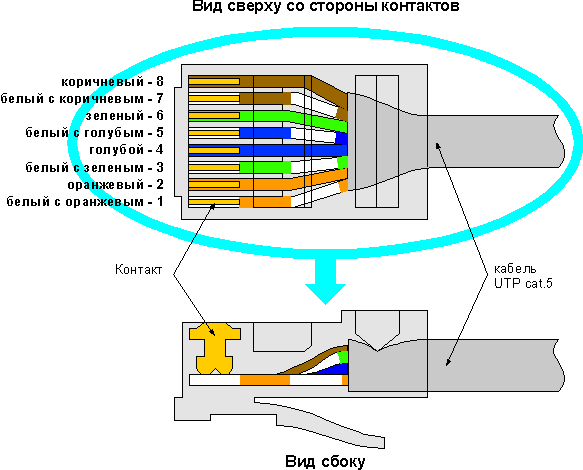 1. Direct order crimp twisted pair, leading from the workstation to the hub.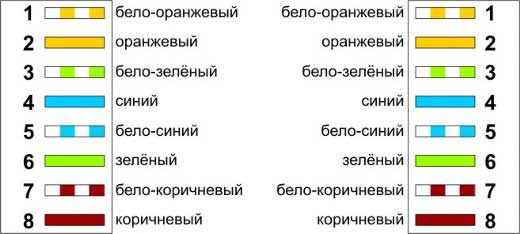 2. Cross-Linkovyy (cross) procedure crimp twisted pair.
Застосовується у випадку, коли потрібно з'єднати між собою 2 концентратора, що не мають перемикання uplink / normal, а також для прямого з'єднання 2-х комп'ютерів. Міняються місцями 2 пари: 1-2 на 3-6. Десь з 2004 року пристрої навчилися автоматично переставляти пари місцями і кросовий обтиск втратив сенс.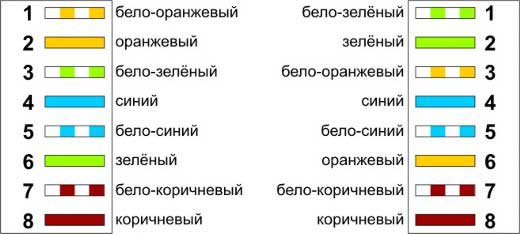 In network sockets Wires are also depending on the used standard.
When stripping the cable unwound twisted pairs shall not exceed 12.5 mm, it is desirable to use special pliers, which are knives with limiters.