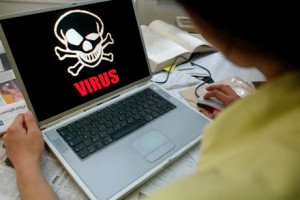 Комп'ютерні віруси підхопити може кожен користувач. Причиною потрапляння шкідливих програм в систему безліч, основними з яких є відвідування небезпечних сайтів в Інтернеті, відсутність антивірусного програмного забезпечення, використання інфікованих флеш-накопичувачів і карт пам'яті.
Virus Removal сьогодні одна з найпопулярніших послуг. Для користувача комп'ютера, виявлення на ПК шкідливих програм і вірусів, завжди неприємна несподіванка.Адже користувачі часто сподіваються, що їхній комп'ютер повністю захищений від негативного впливу. Однак, вплив вірусів може поширяться навіть на комп'ютери з встановленим сучасним антивірусним програмним забезпеченням. Весь час з'являються нові версії вірусів можуть з успіхом обходити встановлені бар'єри і фільтри. Розміщуючись на жорсткому диску або інших носіях інформації, віруси можуть завдати шкоди комп'ютеру і привести до втрати всіх даних або частини інформації, що зберігається на ньому. Тому своєчасне видалення вірусів extremely important.
The list of services provided to remove viruses
Among the services our company one of the most popular is the treatment of viruses.
Видалення банера з робочого столу
Видалення вірусного файлу ВКонтакте
Видалення смс-вимагачів
Видалення троянських вірусів і програм-шпигунів
Розблокування Windows
Ми настійно рекомендуємо Вам не сидіти , склавши руки , якщо у Вас є хоча б найменша підозра про те , що Ваш комп'ютер або ноутбук заражений. Втрати , які приватні особи і компанії зазнають від діяльності комп'ютерних вірусів , сьогодні вимірюються мільярдами доларів на рік по всьому світу. Своєчасне якісне і повне видалення вірусів з Вашого комп'ютера , дозволить Вам спати спокійно!
Signs of the presence of a virus on your computer.
Determine the presence of malware and viruses on your computer can saw non-standard features, the performance of normal operations.
Stop running software that was completely fine;
The change in the software;
Stop downloading or decrease the speed of the operating system;
Reducing the speed of the computer;
The disappearance of the hard drive files placed on it for storage;
Change the size and appearance of file;
Reduce or increase the number of files on the hard or external drive;
Reducing the size of free RAM;
Malfunctions in the operation of the computer;
Stuck computer;
The frequent occurrence of error information;
Anti-virus system always signals the detection of virus software;
The appearance samozavantazhuvalnyh images, messages or programs.
Не всі перераховані ознаки вказують на наявність в комп'ютері шкідливого програмного забезпечення. Деякі з даних ознак можуть вказувати на логічні або фізичні збої в роботі системи. Отже, тільки після проведення необхідної діагностики, досвідчений фахівець компанії KOmP Systems може вказати на наявність в комп'ютері шкідливих програм або вірусів і провести видалення вірусів.
Why not to conduct virus?
When your computer starts to show signs of infection, contact the professionals.
Видалення вірусів – це робота, яку варто довірити фахівцям. Вони вичислять шпигунські програми і коректно видалять віруси. Видалення вірусів необхідно виробляти своєчасно, щоб не допустити їх серйозного втручання в роботу операційної системи. Професіонали KOmP Systems володіють необхідними знаннями та досвідом для того, щоб своєчасно і якісно вилікувати комп'ютер користувача, за низькими цінами в регіоні.
Trust only proven computer help people, and your computer will always be protected.