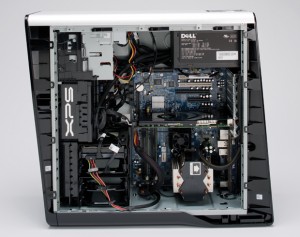 Наша компанія пропонує Вам модернізацію персонального комп'ютера – іншими словами, заміну того або іншого периферійного пристрою або будь-якої з комплектуючих деталей, їх грамотне підключення, встановлення всього програмного забезпечення. Ми спеціалізуємося в такій сфері, як комп'ютерна допомога в Закарпатті – і встановлення тих чи інших комплектуючих теж відноситься до сфери нашої роботи.Ви помічаєте, що програми на вашому комп'ютері працюють повільніше, ніж раніше, вас не влаштовує швидкість його роботи, не вистачає місця на жорсткому диску, для роботи нових програм потрібні великі ресурси: обсяг оперативної пам'яті, частоти процесора, потужності відеокарти, або ви просто хочете вдосконалити комп'ютер?
We encourage you to upgrade your computer
Our experts will carry out the following work:
Free computer diagnostics. *
Tell you about the possible causes of failure.
Recommend that should replace your computer to increase its functionality.
We choose the optimal configuration to suit your requirements.
We can lead upgrades in our office or at home.
Bring and install the necessary details.
Proyzvedemo installation and configuration of the operating system.
Connect and configure additional equipment (printers, scanners, etc.).
Testing computer.
Заміна комплектуючих – це необхідний елемент сучасного життя комп'ютера, тому що пристрої, пов'язані з комп'ютером – принтер, сканер, монітор і електронні плати, які пов'язані з системним блоком – по-перше, швидко застарівають, по-друге, часто ламаються. Фахівці по такій сфері, як ремонт комп'ютерів, рекомендують міняти ці пристрої як можна частіше, щоб комп'ютер працював за останнім словом технічних досягнень. Інформація, яка представляє цінність, повинна зберігатися на змінних носіях, рекомендують фахівці по такій сфері, як комп'ютерний сервіс. А пристрої обробки цієї інформації можуть змінюватися так часто, як це необхідно їх господареві.
Ми рекомендуємо звертатися в KOmP Systems тоді, коли виникла необхідність в установці нового пристрою, а не тоді, коли воно вже не може правильно працювати, і потрібен ремонт комп'ютерів вдома. Щоб модернізований комп'ютер відповідав Вашим вимогам, слідуйте простому правилом: вирішили, що саме ви хочете отримати від модернізації комп'ютера. Він потрібен Вам для ігор, тільки для офісу або для роботи в спеціалізованих програмах. На всі види робіт по модернізації комп'ютера надається гарантія.
Банальний приклад – сучасні системні блоки укомплектовані Windows Vista, але не всі старі моделі принтерів і сканерів працюють з цією операційною системою. Комп'ютеру постійно потрібні нові можливості, нові технології – і установка ПО повинна бути професійною, щоб потім ситуацію не змушена була рятувати швидка комп'ютерна допомога.
Call now, do not delay +(380) 97966-18-03
(380) 97966-18-03. Our prices will surprise and quick exit the wizard.
* - The provision of services