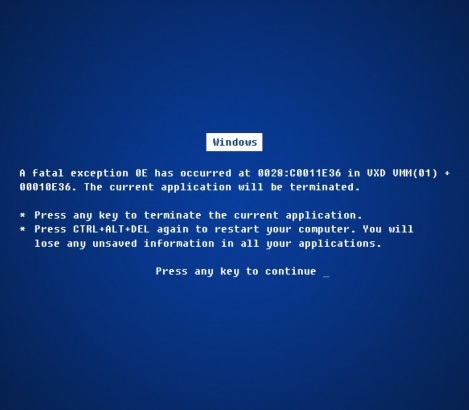 Blue screen of death what to do? Перш ніж приступити до пошуку рішення вашої проблеми з «Синім екраном смерті Windows», а також перед тим як ставити запитання нашим спеціалістам, переконайтеся ласка, що у Вас встановлена ​​ліцензійна копія Windows, або неліцензійна але оригінальна (копія з оригінального носія).У разі якщо на Вашому комп'ютері встановлена ​​збірка Windows скачана з інтернету – задавати питання не є доцільно. Вам потрібно встановити ліцензійну Windows. Як показав досвід більшість проблем з появою «Синього екрану смерті Windows» пов'язане саме з тим, що ви маєте справу із збіркою (типу Chip, Zver, Game Edition і тому подібні). Якщо у Вас збірка, то відповідь завжди буде одна: Змініть вашу копію Windows на оригінальну.
So, what is the Синій екран смерті Windows або ж так звана помилка BSOD (The same Error Rate)? In vain all pensioner has criticized Bill Gates, saying that he wrote with his "lazy" programmers operatsyonku curve, namely Windows, blue screen issues have long been different configurations. sinіy Screen smertі - A lot of data could be lost and damaged computers. помилка in the very Windows, or driver, with which Windows manages your computer hardware may be submitted incorrect command (eg delete all data on the disk) and it gets messed up.
BSOD - This is a defensive reaction Windows, when the system can no longer aware of their actions, and makes decisive action to your Emergency stop, they say - not delov crap on your computer. Помилка BSOD - Occurs more often in malfunction or damage to the equipment in your computer. STOP-помилки and when running inappropriate programs, viruses, third-party drivers, false antivirus software and other "left" economy.
Причини появи синього екрану смерті
We already know that the error is due to incorrect detection code in kernel mode.
failure of the hardware of the computer (hard drive, RAM, video card, power supply, etc.);
conflict devices in the computer;
hardware incompatibility with the operating system;
overheating PC devices;
inappropriate driver;
conflict drivers;
driver incompatibility with the operating system;
your settings BIOS;
lack of free hard disk space;
infected with all sorts of malware (viruses);
overclocked CPU and RAM.
Як можна спостерігати причин дуже багато, але основними винуватцями появи фатальної помилки є драйвера. За даними Microsoft близько 70% помилок викликаються некоректною роботою драйверів. Це драйвера до відеокарти, мережевої карти, принтера, web-камері і т.д. Також існують програми, яким необхідно виконувати свій код в режимі ядра, для цього вони використовують свої драйвера. Це антивіруси, фаєрволли, віртуальні диски, програми запису на CD / DVD-диски. При неправильної роботи драйверів таких програм … теж з'являється синій екран смерті. Тому рекомендується встановлювати драйвера, тільки якщо вони скачали з офіційних сайтів виробників пристроїв комп'ютера, і використовувати перевірені і надійні програми! Ці прості рекомендації допоможуть підтримувати здоров'я операційної системи.