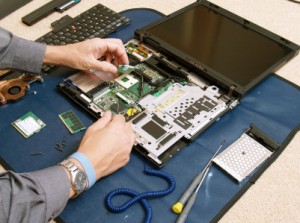 Modern man spends less and less time without work. He tries to use every minute to correspond, monitor the situation, respond to letters, create documents and presentations. The only salvation in this situation is a laptop.
Laptops are now replacing the home computer for many. It can be carried everywhere, it is easy to use. This is the real attribute of life of students, businessmen, and practically all other modern people. That's why more and more people are turning to computers for laptops. You can trust your companion to us - we know how to repair computers urgently. If your schedule is so busy that you can not afford to leave work, we will be happy to come to your home or office and do for a laptop what is our main specialty - computer assistance.
Ми здійснює ремонт комп'ютерів вдома та в офісі, лікуємо проблеми, пов'язані з програмами і з обладнанням. В цілому, комп'ютерний сервіс передбачає будь-яку роботу з комп'ютером, яка може бути здійснена як для стаціонарного комп'ютера, так і для ноутбука. Різниця лише в тому, що ноутбук більше підданий поломка, ніж стаціонарний комп'ютер – адже проливши чай або каву на клавіатуру звичайного комп'ютера, ви ризикуєте лише зіпсувати клавіатуру. А теж саме на ноутбуці може призвести до тотальної поломки, і тоді знадобиться термінова комп'ютерна допомога. Ми надає послуги з гарантійного і післягарантійного обслуговування, модернізації та ремонту ноутбуків всіх марок. Поряд з цим, ми пропонуємо свої послуги в галузі мобільного обслуговування комп'ютерної техніки; заміні елементів живлення; встановлення жорстких дисків більшої ємності зі збереженням даних з Вашого старого HDD, встановлення додаткових модулів оперативної пам'яті.
We offer:
Ні для кого не секрет, що ноутбуки кожного з виробників володіють рядом технічних особливостей. На відміну від персональних комп'ютерів, даний вид техніки вимагає індивідуального підходу, а якісний ремонт ноутбуків неможливий без досконалого володіння технічною документацією. Саме тому ремонт та обслуговування портативних комп'ютерів некваліфікованим фахівцями в домашніх умовах може стати причиною остаточного виходу з ладу техніки, а також серйозних фінансових витрат. Враховуючи це, ми рекомендуємо звертатися для усунення несправностей тільки в спеціалізований сервіс. Також для якісного обслуговування ноутбуків надзвичайно важливо мати власний склад запасних частин, адже уніфікація комплектуючих портативних комп'ютерів залишає бажати кращого.
Our service center carries out professional repair of laptops of various brands and models: Toshiba, Acer, Asus, HP, Dell, Lenovo, E-mashines and others. We provide a full range of services: from replacing connectors to upgrading a laptop. We also repair netbooks and tablets.
Specialized equipment and high professional level of employees allow to repair laptops in the shortest possible time. KOmP Systems specialists will quickly and efficiently restore the work of your computer equipment.
The service center performs typical repairs of laptops of various degrees of complexity:
Power supply replacement. As a rule, the repair of laptops in this case is carried out on the day of application, subject to the availability of spare parts in stock. Possible repair with departure to the customer.
Repair and replacement of motherboards. A computer motherboard is an expensive part, so laptop repair is preceded by mandatory computer diagnostics.
Repair and replacement of LCD-displays. Due to the fact that the repair of this type of laptop involves almost complete disassembly of the computer case, it is recommended to perform it only in a stationary environment. We have the necessary equipment to repair laptops of any type, so the quality of work is guaranteed.
Repair and replacement of hard and floppy drives. This operation may involve copying or restoring information on the hard drive. When contacting us to repair laptops, we recommend that you notify the wizard of valuable data on your computer.
We also offer keyboard repair, upgrade your laptop and other services.
Laptop maintenance and repair at the highest level - our rule You can call a specialist or find out more detailed information by calling + (380) 97966-18-03. Call now, do not delay + (380) 97966-18-03. You will be surprised by our prices and the quick departure of the master.
Portfolio Items