CCTV "turnkey" for private homes: a leading economy option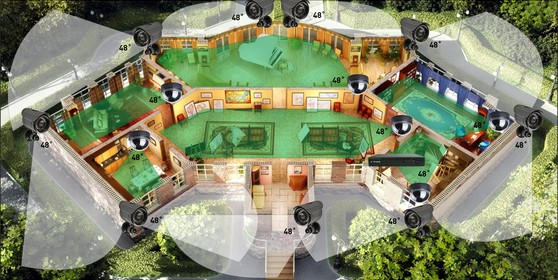 Низька ціна за високу якість та базові можливості
Можливість спостерігати за подіями на всій навколишнього будинок території
Можливість стежити за проїжджаючими і паркуються автомобілями
Можливість вести спостереження віддалено через інтернет
The ability to connect to the camera from your mobile phone, PC, tablet
The ability to look for parking without getting out of bed, picking up a mobile phone
Cameras mounted on the outside, made of dust, moisture, frost body and easily withstand severe weather conditions
$2359.50
Send request
Прямий номер відділу монтажу
To order the project and clarify all details please call 38 (097) 966-1803
Опис об'єкта
It is necessary to arrange in a private home video surveillance is also necessary to observe the surrounding area and passing cars on it.
Task
The owner of the house wants to watch the events in the control room for nurses and governesses.
Доступ до системи має бути наданий лише власникові будинку
The facade of the building should be viewed in full, without "dead zones"
Необхідно вести спостереження за проїжджаючими автомобілями
CCTV should keep a record of the clock.
За локальної мережі повинні підтримуватися перегляд «online»-зображення з камер і перегляд архіву
Access to the camera via the Internet must implement all of the mobile host, including a laptop, smart phone and tablet
Пропозиція повинна бути мінімальним за ціною
D-420SH-0F-1 Dome Camera - 6 pcs.
W-420SN-15F-1 vulichna camera - 10 shh.
B164-0D16C-1 DVR - 1 pc.
M-916, uninterruptible power supply - 3 pcs.
Hermoboks for power supply 3 pieces.
HDD 1Tb, hard drive - 1 pc.
FTP Cat 5e, copper cable - 600 m
VAP-22 transceiver for twisted pair - 32.
DG-350 connector for power supply - 16 pcs.

Рішення завдання
Подібного роду система передбачає встановлення 15-ти камер з допустимо мінімальним дозволом. Шість камер встановлюються в кімнатах всередині будинку. Дев'ять камер встановлюються по периметру фасаду. Незважаючи на вузький кут огляду камер, грамотне інженерне рішення дозволяє встановити їх у точках, з яких реалізується спостереження за всіма без винятку зонами по периметру будівлі. Дозвіл камер 420 ТВЛ, всі внутрішні і зовнішні камери кольорові. Всі камери, встановлені усередині приміщення, мають компактні розміри і купольне виконання, що дозволяє не псувати зовнішній вигляд і дизайн квартири. Для передачі відеосигналу з камер на відеореєстратор був обраний кабель UTP CAT 5 E з парою пасивних приймально-передавачів на кожну камеру. Завдяки використанню багатожильного кабелю і потужних приймально-передавачів, кіл-ть кабельної продукції вдалося скоротити, що дозволило не тільки заощадити на загальній вартості матеріалів та робіт, а й зменшити кількість і розмір штроб і монтується короби, що дозволяє мінімізувати шкоду дизайну будинку. В якості пристрою запису був обраний відеореєстратор з жорстким диском. Якість запису і відтворення відеореєстратора підібрано для максимально повного використання технічного ресурсу камер. Для стабілізації живлення камер був встановлений блок стабілізації. Для захисту системи від саботажу, відеореєстратор був запрограмований таким чином, щоб при пропажі зображення від однієї з камер, відеореєстратор видавав тривалий звуковий сигнал, що свідчить про втрату зображення, при цьому відправляючи тривожне повідомлення на електронну пошту господаря. Для економії дискового простору всі камери, встановлені в будинку, були налаштовані на запис тільки по руху.