Video surveillance system "turnkey" office: Wired economy option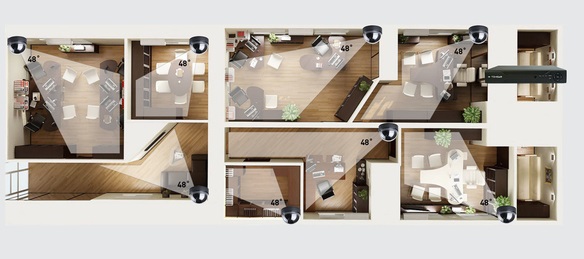 Низька ціна за високу якість та базові можливості
Можливість спостерігати за подіями в кабінетах співробітників
Можливість спостерігати за відвідувачами
The ability to connect to the camera from your mobile phone, PC, tablet
Подключаться до камер можна віддалено через інтернет
Рівень доступу до системи розмежовується присвоєнням різних прав її користувачам
$1274. 60
Send request
Прямий номер відділу монтажу
To order the project and clarify all details please call 38 (097) 966-1803
Опис об'єкта
Необхідно організувати відеоспостереження за співробітниками та відвідувачами офісу. В офісі 7 приміщень і коридор, в якому розташований зал очікування. Поверховість офісу і тип будівлі, в якій офіс розташований, значення не мають.
Task
The owner of the office wants to observe what is happening in the waiting room, watch out for employees and visitors access to the system should be given to the Director, Security Service and the Chief Engineer
The device records should be hidden from prying eyes.
CCTV should keep a record of the clock.
За локальної мережі повинні підтримуватися перегляд «online»-зображення з камер і перегляд архіву
Must be implemented remote access to video surveillance systems through the Interent.
Access to the cameras should be implemented on all mobile director, including a laptop, smartphone and tablet
The proposal should be a minimum price.
D-420SH-0F-1, dome cameras - 8 pcs.
B84-2D6C-1 DVR - 1.
M-916, uninterruptible power supply - 1 pc.
Гермобокс для блоку живлення-1 шт
HDD 1Tb, hard drive - 1 pc.
FTP Cat 5e, copper cable - 300 m
VAP-22 transceiver twisted pair - 16 pcs.
DG-350 connector for power - 8 pieces.

Рішення завдання
Система передбачає установку восьми камер спостереження. Відповідно до цього було вибрано восьмиканальним рішення з максимально допустимим дозволом камер, обумовленим вимогою низької ціни і умов технічного завдання. Сім камер встановлюються в приміщеннях, в яких знаходяться співробітники. Камери не мають широкого кута огляду, і відображають тільки ті місця, які вказані в ТЗ. Одна камера встановлюється в коридорі і спрямовується на зону очікування, щоб бачити відвідувачів. Так як було поставлено завдання, зробити мінімальне за ціною пропозиція, камери були обрані найбільш прості, але достатні для реалізації поставленого завдання. Дозвіл камер 380 ТВЛ, всі камери кольорові. Всі камери, встановлені усередині приміщення, мають мінімальні розміри і купольну форму, щоб не псувати зовнішній вигляд і дизайн офісу. Для передачі відеосигналу з камер на відеореєстратор був обраний кабель UTP CAT 5 E з парою пасивних приймально-передавачів на кожну камеру. В якості пристрою запису був обраний відеореєстратор з жорстким диском. Якість запису і відтворення відеореєстратора підібрано для максимально повного використання технічного ресурсу камер. Для стабілізації живлення камер був встановлений блок стабілізації. Для захисту системи від саботажу, відеореєстратор був запрограмований таким чином, щоб при пропажі зображення від однієї з камер, відеореєстратор видавав тривалий звуковий сигнал, що свідчить про втрату картинки, при цьому відправляючи тривожне повідомлення на електронну пошту господаря. Для економії дискового простору, всі камери, встановлені в офісі, були налаштовані на запис тільки по руху.