Система відеоспостереження «під ключ» для офісу: бездротовий преміум-варіант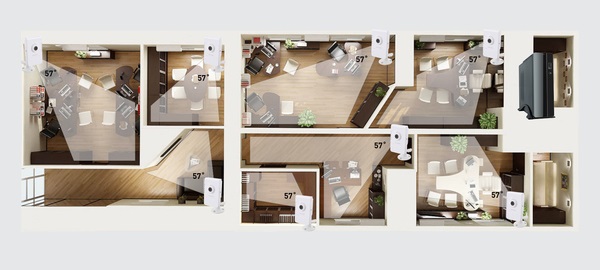 Висока якість і максимальні можливості за помірну вартість
Можливість спостерігати за подіями в кабінетах співробітників
Можливість спостерігати за відвідувачами
The ability to connect to the camera from your mobile phone, PC, tablet
Подключаться до камер можна віддалено через інтернет
Рівень доступу до системи розмежовується присвоєнням різних прав її користувачам

Камери підключаються по WIFI, немає необхідності в прокладанні кабельних ліній, в будь-який момент камери можуть бути переміщені, чисельність камер збільшується без внесення істотних змін у конфігурацію системи

Інформація зберігається на сервері, який підтримує базову аналітику

Система повністю бездротова
$2913. 00
Send request
Прямий номер відділу монтажу
To order the project and clarify all details please call 38 (097) 966-1803
Опис об'єкта
Необхідно організувати відеоспостереження за співробітниками та відвідувачами офісу. В офісі 7 приміщень і коридор, в якому розташований зал очікування. Поверховість офісу і тип будівлі, в якій офіс розташований значення не мають.
Task
The owner of the office wants to observe what is happening in the waiting room, watch out for employees and visitors access to the system should be given to the Director, Security Service and the Chief Engineer
The device records should be hidden from prying eyes.
CCTV should keep a record of the clock.
За локальної мережі повинні підтримуватися перегляд «online»-зображення з камер
Must be implemented remote access to video surveillance systems over the Internet.
Access to the cameras should be implemented on all mobile director, including a laptop, smartphone and tablet
Дозвіл камер повинно бути високим
Система повинна мати можливість інтеграції в локальну мережу замовника
При необхідності система повинна бути доповнена складною аналітикою без внесення змін до топологію

З метою відмови від штробления з неминучим нанесенням шкоди декору, система повинна бути бездротової
Brickom WCB-100Ae, мініатюрна камера – 8 шт.
Відеосервер – 1 шт.
UTP 4×2 CAT 5E, кабель біметалічний – 300 м
Рішення завдання
Згідно з технічним завданням, рішення задачі може бути реалізовано на IP камерах з WIFI модулями. Сім камер встановлюються в приміщення, де знаходяться співробітники. Камери не мають широкого кута огляду, і відображають тільки ті місця, які вказані в ТЗ. Одна камера встановлюється в коридорі і спрямовується на зону очікування, для спостереження за відвідувачами. Запис з камер ведеться цілодобово на сервер в кабінеті директора. По мережі до сервера підключається кімната охорони та головний інженер для здійснення контролю за подіями. Реалізовано віддалений доступ до системи через інтернет. Від доступу сторонніх осіб, сервер захищений політиками доступу та безпеки. Корпоративна WIFI мережа використовується для доступу до системи відеоспостереження через портативні пристрої. Продуктивність відеосервера підібрана відповідно з продуктивністю відеокамер. Для економії дискового простору всі камери, встановлені в офісі, були налаштовані на запис тільки по руху. Система побудована на програмному забезпеченні початкового рівня, що дозволяє здійснювати базову аналітику і працювати з архівом. Камери підібрані таким чином, щоб перехід з базового ПЗ на професійне міг здійснюватися без внесення змін до топологію.