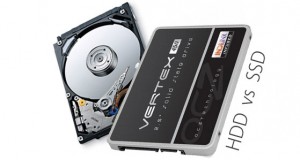 Комп'ютерні технології стрімко розвиваються – це факт. І справа не завжди стосується підвищення будь-яких характеристик, іноді змінюється сам підхід до вирішення завдання. Наприклад, у відкритих став використовуватися графічний процесор, що полегшує життя центральному процесору комп'ютера. Дискети давно пішли в минуле, поступившись місцем містким і невеликим за розміром flash-носіїв. З жорсткими дисками обстоит схожа ситуація. Їм з'явилася альтернатива – SSD накопичувачі.
SSD Drives are volatile solid state devices for permanent storage.
The hard disk drive is on magnetic disks. This device is also volatile and stores your computer when disconnected from the network. The principle of its operation is based on the fact that the head moving on a magnetic disk surface, reading them or writing of information.,uk
If you compare hard drives with SSD drives, each device has its advantages and disadvantages.
Порівняння характеристик жорстких дисків і SSD накопичувачів
Твердотільні носії інформації (SSD) мають ряд переваг: у них вищий показник удароміцності і продуктивності, до того ж вони менше споживають енергії і стійкі до вібрацій. У цих пристроях немає рухаються механічних деталей, тому їм не страшні удари і падіння, до того ж при роботі вони не нагріваються. У тих умовах, в яких жорсткий диск просто не зміг би працювати SSD накопичувачі чудово справляються зі своїми функціями.
У той же час у вінчестері є свої достоїнства. Наприклад, вони коштують дешевше і володіють великим обсягом пам'яті. Так, диски HDD дозволяють утримувати терабайт записаних даних, що для твердотільних носіїв поки неможливо. Якщо вінчестер можна перезаписувати до 1 мільйона разів, то стеля накопичувачів SSD – 10 тисяч разів. Як видно, у кожного аксесуара є свої сильні і слабкі сторони. Оцінивши їх, ви зможете зробити правильний вибір.
Як замінити жорсткий диск на SSD накопичувач
To professionally replace the hard drive to SSD drive, contact the service center.
проведуть діагностику обладнання
determine the best type of SSD storage;
remove the hard drive and install a solid state storage medium;
protesting the computer;
provide a guarantee for the work performed.
By working with professionals, you protect yourself from many unpleasant consequences of buying inappropriate SSD drive and errors in its installation.