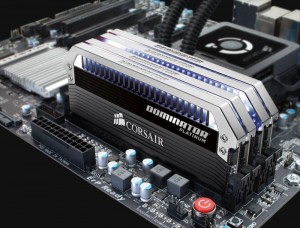 Оперативна пам'ять – надзвичайно важлива частина комп'ютера. Вона служить для тимчасового зберігання інформації і команд, які процесор використовує у своїй роботі. Особливість оперативної пам'яті в тому, що збережені в ній дані доступні тільки при включеному комп'ютері: при відсутності напруги інформація просто стирається.
Навіть якщо у вас буде найсучасніший комп'ютер: швидкий процесор, потужна відеокарта і т.п., а пам'яті буде недостатньо, машина не зможе швидко працювати. При запуску деяких програм ПК може гальмувати, та й сама завантаження може відбуватися дуже і дуже повільно. Якщо щось схоже трапилося з вашою машиною, необхідна модернізація оперативної пам'яті. Ви можете замовити цю послугу в нашій компанії.
Оперативної пам'яті ніколи не буває багато, і майже завжди її не вистачає. Вона містить дані операційної системи і запущених програм. Від розміру оперативної пам'яті залежить число завдань, які ваш комп'ютер може одночасно виконувати. Хоча апгрейд цієї деталі коштує зовсім недорого, він дозволяє в кілька разів прискорити роботу ПК.
Модернізація оперативної пам'яті в нашому сервісному центрі
Our services include upgrading the RAM:
determine the type of RAM your computer;
determine the connectivity of the new fence along the old memory (if there is a free slot);
determine the appropriate amount of new memory;
purchase and installation of a new module;
test your computer with the new RAM;
providing guarantees for services rendered.
Деякі складнощі у модернізації оперативної пам'яті
Щоб оновити пам'ять свого комп'ютера, важливо правильно підібрати модуль. Оперативна пам'ять буває трьох видів: DDR, DDR II і DDR III. Природно, що вибирати той чи інший тип потрібно з урахуванням слота материнської плати. Фахівці нашої компанії діагностують встановлену на комп'ютері оперативну пам'ять і підберуть найкращий варіант для модернізації.
У більшості випадків на комп'ютерах встановлено один модуль оперативної пам'яті, хоча на материнській платі є два слоти. Якщо є можливість, ми підберемо аксесуар, який у парі зі старої планкою забезпечить максимальну продуктивність. А як бути, якщо ваші можливості поки не дозволяють зробити апгрейд? Якщо комп'ютер гальмує і працює невиправдано повільно, визначте, які програми є основними споживачами ресурсів системи, в першу чергу оперативної пам'яті.
Якщо їх кілька, запускайте програми по черзі, а як тільки завдання буде виконано, припиняйте їх роботу. Можна постаратися встановити стару версію ПЗ, у якої скромніші системні вимоги. Як би там не було, це тимчасовий захід. Пам'ять збільшувати все одно доведеться, тому можете починати відкладати на неї гроші.