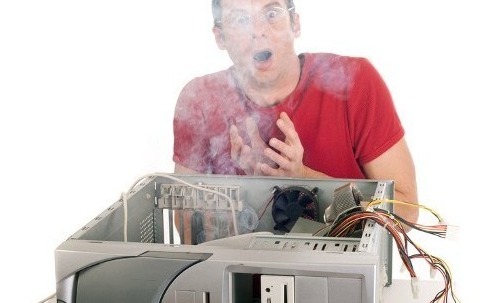 Комп'ютер гріється. Що робити? Дуже Велику популярність здобула проблема, пов'язана з перегрівом комп'ютера. Причому якщо раніше, ця проблема мала місця бути тільки влітку, то зараз з нею можна зіткнутися практично в будь-який час року. Сьогодні ми Вам розповімо про те, чому гріється комп'ютер і що потрібно робити, щоб цього уникнути.
Почнемо з того, що під комп'ютером більшість з нас розуміють системний блок, саме він і гріється найбільше. Давайте розглянемо, які дії нам слід вживати при цьому і що стало причиною.
Why is heated and the computer what to do?
1)Позбавтеся від пилу в системному блоці. Системний блок має властивість притягувати і збирати всередині дуже багато пилу, яка утворюється за рахунок постійної циркуляції повітря, яка відбувається через вентиляторів, розташованих усередині системного блоку. Кулера (вентилятори) спеціально заганяють повітря в системний блок, так як він дозволяє остуджувати такі елементи, як процесор, відеокарту, жорсткі диски і т.п. Зібрана пил не дає платам охолонути, в результаті чого температура і підвищується.
2)Чистити системний блок потрібно регулярно, не менше одного разу на 6 місяців. Однак якщо Ви працює за комп'ютером цілими днями, то чистку потрібно проводити не менше разу на 2-3 місяці. Особливу увагу слід приділити лопатям вентилятора (так як на них збирається маса пилу), радіаторів, і природно всім платам. Для чищення Вам знадобитися пилосос, пензлик і суха ганчірка. Ні в якому разі не використовуйте воду або чистячі хімічні засоби!
When cleaning can be damaged (break, scratch, bend, etc.) computer component parts, so the best thing to entrust this process to professionals.
You can zventutysya to us, we will offer you professional help with cleaning your computer! Our company wishes you that your computer was always cold!